Hendrick Subaru Southpoint, formerly Performance Subaru, has been supporting Paws4ever for 6 years by sponsoring Paws4ever events, hosting fundraisers like dog shows and the Spooky Pup Trunk or Treat, and including Paws4ever in annual Share The Love campaigns.
Paws4ever just received more than $25,000 from Hendrick Subaru Southpoint for the 2019 Share the Love campaign. This gift came at a critical time, as we have been facing a loss of income due to program closures to slow the spread of COVID-19. This gift helped sustain Paws4ever and ensure that we can keep the lights on and continue providing food and high quality care for our animals.
To date, Hendrick Subaru Southpoint has donated more than $110,000 to help animals in need at Paws4ever.
It costs an average on $1,500 per animal to provide rescue, ongoing care from knowledgeable staff, shelter, food, veterinary care and medications, spay/neuter surgery, vaccines and preventatives, training and enrichment, adoption, and follow-up support for their new families. Hendrick Subaru Southpoint has provided this comprehensive, life-changing care for more than 73 cats and dogs. 
This is Dusty (below, left). At 8 years old, Dusty was surrendered after his owner passed away. Because of support from friends like Hendrick Subaru Southpoint, Paws4ever was able to rescue Dusty and promise him a secure future. He is a sweet and smart boy who loves enrichment games and treats. We know that a new family is out there for him, but until then, he is safe and enjoying his stay in a Paws4ever foster home.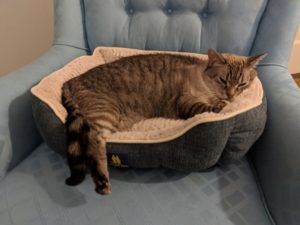 Maddie (above, right) was left at a crowded county shelter, but she wasn't thriving in a small space. She was extremely stressed out and would barely let anyone touch her, let alone get to know her. She desperately needed a calmer, bigger space and a second chance. Thanks to support from friends like Hendrick Subaru Southpoint, she got the environment she needed at Paws4ever. She lived in a community cat room with plenty of soft beds, perches, scratching posts, and room to roam. She also has medical and special dietary needs that Paws4ever was able to meet, thanks to generous gifts. We joked that Maddie thought she was the queen because she loved to lay directly in the middle of the room and she meowed if her lunch was ever a moment late! This February, a couple visited Paws4ever looking for an older kitty, and they fell in love with Maddie! A few months later, they wrote to tell us that adopting Maddie was one of the best decisions they ever made.
Thank you to Hendrick Subaru Southpoint for giving saving animals like Dusty and Maddie and giving them high quality care and a secure future. We are so grateful to partner with you in transforming lives and bringing pets and people together.