Paws4ever offers private dog training lessons in our Learning Center. The 60-minute Private Consultation is a wonderful way to work on more complex issues or issues that are not suited to a group class. The Private Consultation can also be a stepping stone for dogs who are not quite ready to be in a group class.
Each private lesson is individually scheduled at your convenience during our available hours.
Please email us at train@paws4ever.org if you have any questions or need assistance in selecting your most appropriate option. We want you and your dog to succeed, and we're ready to help you and your dog make good progress!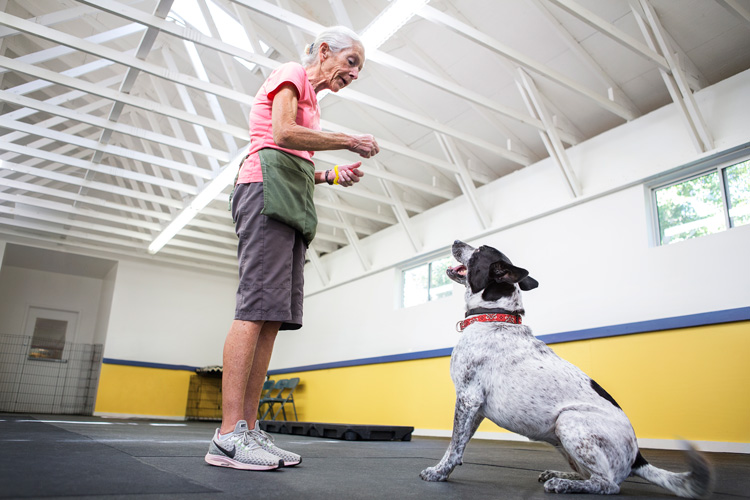 Why might a Private Consultation be the best fit for you and your dog?
Private Consultations are a good choice for dogs exhibiting concerning behavior such as nipping, guarding, growling, frequently hiding fearfully, lunging while on the leash or at the fence, excessive barking, mouthiness, jumping, or roughness. We offer additional attention and guidance to assist you and your dog to help you understand and move toward resolving these behaviors. Situations beyond the scope of Paws4ever services will be referred to professionally recognized and credentialed resources for more intensive assistance as needed.
Private Consultations are also a good choice for dogs who are over-stimulated or overly fearful in a group class setting. We can help your dog learn to handle the presence of other dogs so that they can join a class environment.
Private Consultations can also be a good choice for people who prefer a one-on-one learning experience for any reason!
Each private lesson is individually scheduled at your convenience during our available hours.
Tuition: $100 per 60-minute Private Consultation session.
If you are in need of training for your dog and are unable to afford our regular rates, you may request a Dog Training Scholarship. A scholarship can provide up to a 5-week group class and 2-3 private lessons.
Please note: Paws4ever does NOT allow the use of unlimited slip or choker style training collars, pinch or prong style collars metal or plastic, nor any electronic collars at any time on our campus. We believe science-based, positive reinforcement training is the best way to build communication, cooperation, and trust between you and your dog.
Private Consultation Form
To request a private consultation, please fill out the following form to help us get to know you and your dog. After you submit the form, we will be in touch!
**We are currently not taking on private lessons regarding aggression and reactivity. Feel free to reach out to us for a referral if needed**