A Letter from Paws4ever Executive Director Kathryn Ruggeri
A lot of things are different at Paws4ever these days. The Adoption Center is no longer bustling with volunteers and drop-in visitors, dog training has gone virtual, and many members of our team are working remotely (yes, there are lots of swishing cat tails and dogs barking in the background of our video conferences). But one very important thing hasn't changed and never will: our commitment to care for the animals who need us.
Because I know that your compassion for animals hasn't wavered either, I want to let you know that your support is more important than ever right now – and share some of the ways your gift will change lives.
I'll be honest with you: our animals need your gift today. While Paws4ever's work has always relied on your generosity, we typically have program revenue to help cover some of our expenses. However, with in-person dog training classes postponed, the ReSale Store temporarily closed, and potential adoptions limited to appointment only, our income is dramatically reduced. Even though income is down, the cost of caring for homeless animals and supporting pet families remains high. There are no days off in animal care.
Every day, your gifts sustain Paws4ever and ensure that no matter what, every bowl is filled, every medication is given, every pet gets attention, and every kennel, blanket, litter box, and toy is cleaned. Your gifts mean that Paws4ever can provide resources to support adopters and pet families. Your gifts mean that we will be here when the phone rings and the county shelters need us to rescue litters of kittens this spring.
Since I can't give you an in-person tour right now, I want to show you a behind-the-scenes look at your gifts at work. Each day, pets at Paws4ever get play time and enrichment to keep their bodies and minds active. Below, Ashley is freezing peanut butter, pumpkin, and special snacks onto dog toys, and Ross is using his nose to sniff out treats hidden in a bag. Dogs have been enjoying the beautiful springtime weather by running in our large fenced fields and splashing in the kiddie pools. The cats have been especially fond of their playtime with giant peacock feathers. Your support is behind each one of these moments.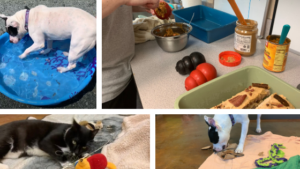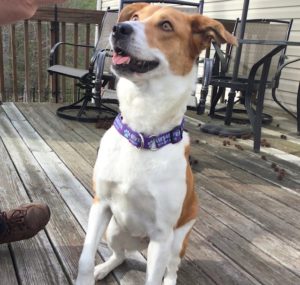 Since the beginning of March, your support has helped us match 20 pets like Charlotte with their forever families. Charlotte's new family made an appointment to visit the Adoption Center because they wanted a cuddly family dog. When they came to visit, their teenage daughter immediately fell in love with Charlotte. Her family has nicknamed her "Charlie" and she loves to run and play with her new toys.
Your support has also allowed the Paws4ever Foster Program to continue placing adoptable pets like Uno with loving foster families who transform their lives. A few weeks ago, Uno was in constant distress in his kennel. Your support helped place him in a foster home. This is what his foster family has to say about his transformation:
"In the shelter, he was pitiful and we all felt hopeless watching him. In my home, he is able to rest and the real Uno came out. He likes kids, he adjusts play for different dogs, he walks pretty well on a leash, he loves physical touch, he enjoys playing with toys and carrying things around in his mouth. He is also very sensitive and bonded to his humans. We also found some things we can work on to set him up for success in a new home."
Pets like Uno depend on your support more than ever right now. Please, make a gift today to ensure that Paws4ever is able to help the pets who need us most — today, tomorrow, and beyond.
No one knows what the future will hold, but we know that many pet families are struggling right now, and the height of kitten season is fast approaching. Your gift today will secure uncertain futures and help Paws4ever prepare to support pets and their families in the coming months.
If you are able, please make a gift today and safeguard the future for pets like Uno.
Like so much about this unprecedented time we find ourselves in, saving animals right now requires us to rely on each other. We are grateful to those of you who have already given, and we are so touched by the kind words of support that many of you have shared.Thank you. We know that many are dealing with a variety of hardships, and if you aren't able to support Paws4ever financially right now, we understand. We value your place in our community, and we want to stay connected. The only way through this is together.
Thank you,
Kathryn Ruggeri
Executive Director, Paws4ever
Kathryn@paws4ever.org
P.S. While I was writing you this letter last night, I got a message about an abandoned kitten. Within an hour, that kitten was safe in our care. Her name is Cheez-It. Young kittens need bottle-feeding and constant care. Help Cheez-It grow big and strong: make a gift today!