Family Dog Manners Series
Family Dog is a multi-class series that covers the fundamentals of manners training. The skills you learn in the Family Dog Manners classes will help you and your dog to build a trusting relationship, communicate effectively, and replace unwanted behaviors with polite manners to promote a happy and calm home for you and your best friend! Family Dog group classes are around one hour, and group classes meet at the same time each week consecutively for the number of weeks starting with the start date posted on the schedule.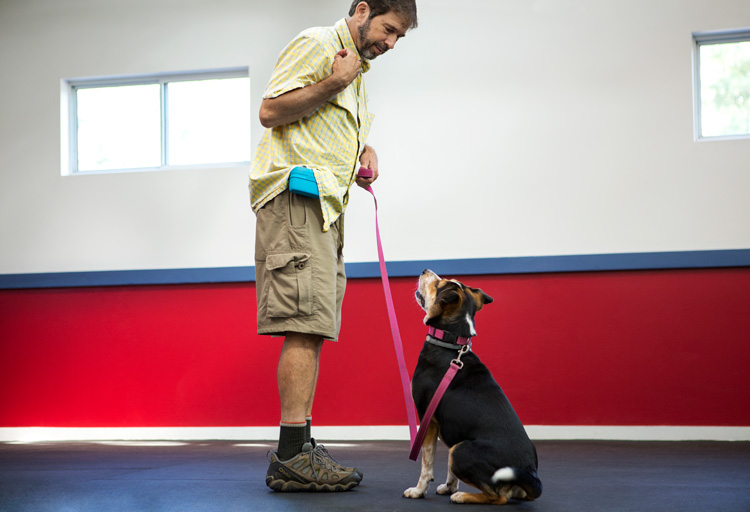 Family Dog 1.0: Basics Group Class
This course introduces you to the essentials for teaching your dog basic good manners, which will replace unwanted behaviors such as jumping, pulling, and running away. This class establishes the foundation for more advanced skills taught in Family Dog 2.0 Intermediate classes and workshops. If your dog is 4 months old or older, and ready for their first group class at Paws4ever, this is the place to begin!
Duration: 5 Weeks
Tuition: $120
Prerequisite: Your dog must be friendly to humans and unfamiliar dogs, and be able to focus on you comfortably in a group class setting. If your dog is likely to be over-excited, barking excessively, lunges towards other dogs, or is shy, anxious or nervous, we recommend beginning with private lessons as the appropriate training option to achieve basic skills and prepare for a group class.
Family Dog 2.0: Intermediate Group Classes and Workshops
Mastered the basics? Build on your Family Dog Manners 1.0 skills to increase successful response reliability in increasingly challenging real life situations while steadily improving communication, relationship, and mutual trust with your dog.
Mix and Match! Choose your Family Dog Manners 2.0 classes and workshops to fit your needs and goals. Family Dog 2.0 sessions can be repeated as a great training refresher when you need to brush up on your training!
Family Dog 2.0: Leash Walking Group Class
This 3-week class focuses on teaching and practicing the skills needed to help make walks more enjoyable for both you and your dog, and to ensure success in gradually more challenging real life distraction situations.
Duration: 3 Weeks
Tuition: $70
Prerequisite: Family Dog 1.0: Basics
Family Dog 2.0: Settle Down Group Class
This 3 week class focuses on teaching and practicing the skills needed to help your dog stay in place calmly and reliably. This means learning not to jump up, and to settle more calmly in a designated spot under gradually more challenging real-life distraction situations, such as when visitors arrive.
Duration: 3 Weeks
Tuition: $70
Prerequisite: Family Dog 1.0: Basics
FamilyDog 2.0 Come When Called Group Workshop
Come When Called is a single 90 minute workshop focused on learning the skills needed to help your dog come when called safely, with gradually more challenging real life distractions.
Duration: 1 90-minute workshop
Tuition: $35
Prerequisite: Family Dog 1.0: Basics